Cebu Travel to commemorate 10th Anniversary of the Corporation!
We went to Cebu, Philippines to celebrate 10th anniversary of RONDHUIT's birth during April 16 to 24, 2016. We had English lessons there. Here are the short reports from the participants.
A Houseful of Memories in Cebu by Koji
This travel was most concentrated one in my life. My first evening staying in Cebu was a welcome party for me in karaoke and had a highly enjoyable time. It was full of heart and I've never experienced so far. I was surprised at English teachers' singing voice. They sang songs very well!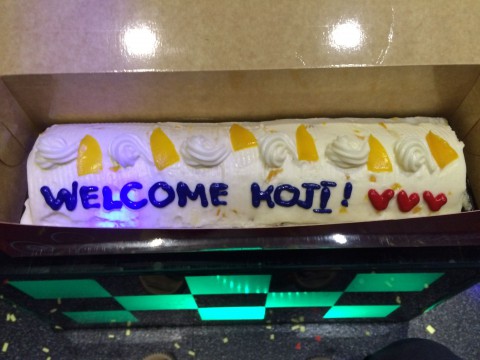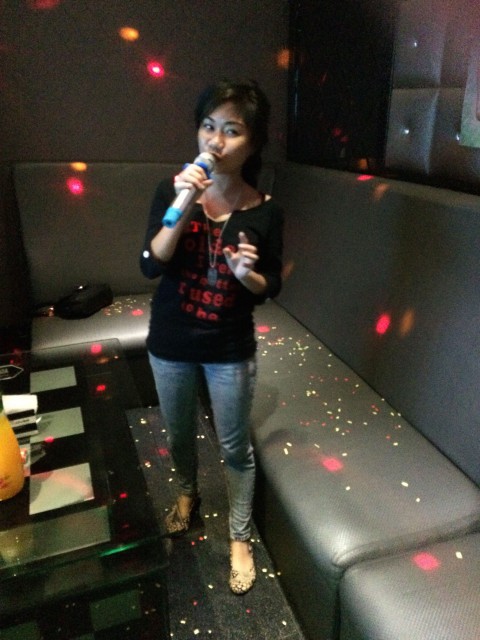 We shared dinner time on the other day. I enjoyed the rare pleasure of talking to colleagues and teachers.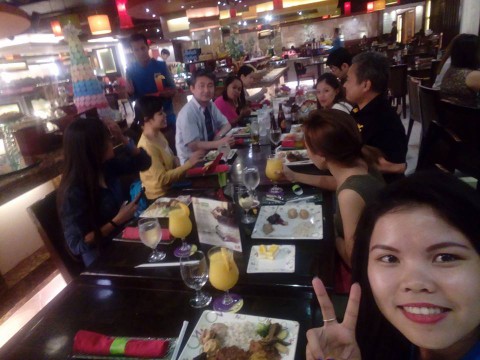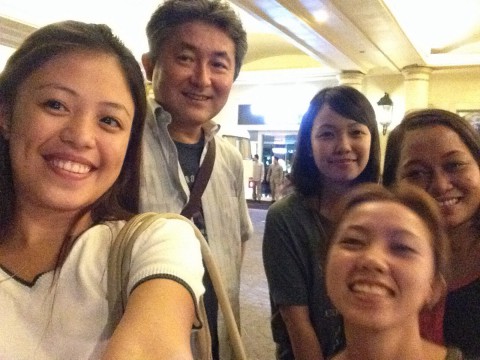 The thing I regret is not having a chance to ride on a jeepney. But fortunately or unfortunately, I got a chance to ride on an ambulance. Wednesday afternoon, during English lesson, I got a terrible stomachache. My English teacher kindly called an ambulance for me and I went to the hospital. I stayed in the hospital for one night. When it was all over, it was very interesting experience for me. Suffering severe pain, I saw I got so many visitors, not only our staffs but teachers, surrounded my bed. I don't think I got many visitors to the hospital when I die in Japan. I want to be in Cebu when I die!
When I returned to Japan, teacher Jecel, the facilitator of our lessons, gave letters to each of us. The letters were handwritten by her in the previous night. We got a few hundred or thousand of e-mails everyday, all the more, I treasure it.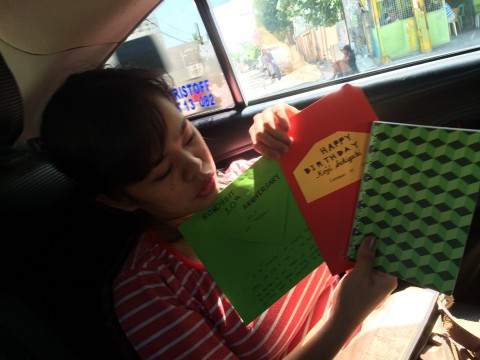 The English Adventure on a Southern Island by Takeyoshi
Arriving in the whole new world after a 4 hours of evening flight and experiencing the mishap, our company's journey into Philippine was full of excitement. Adding to that, meeting knowledgeable and experienced, and most of all, sweet group of English conversation instructors and spending half of our stay with them speaking only in English, sometimes under the beautiful blue sky or on the beach, was really a unique moment for us who spend most of our time sitting at a desk and facing screens rarely saying a word in the office in downtown Tokyo.
Thanks to instructors, our English skills made a big improvement during the stay to the point some of the instructors expressed genuine surprise during the wrap-up session on the last day. Yes, we would love to come back to Cebu in the near future so that we can polish up our English and watch the sunrise, in time, at the top of Osmena Peak.
Salamat!
Work,Learn and have fun in Cebu by Hisashi
It was my first time to visit Philippines and I had memorial experiences.
Our English teachers are all kind and have great hospitality. Thanks to be with us not only daily class but also Mountain, Falls and amazing White Beach.
I hope we will be Cebu again next year.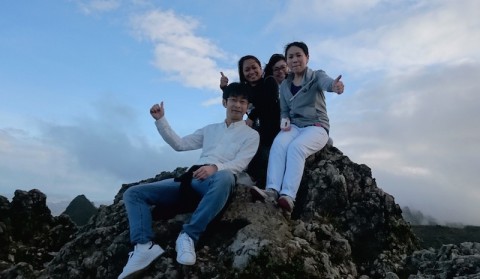 It's not just the beach resort by Issei
At first, I thought we would go to Cebu just fur fun, but it turned out to be a language seminar. Koji-san said we would work in the morning and study English in the whole afternoon. I thought it was really pity that we would not be able to enjoy the beach at Cebu known as a tropical resort island.
However, now I think it was good. Since we did not stay at the beach resort, we had an opportunity to see the daily life of the local people at Cebu. This experience made me feel closer to my English teacher.
The teachers were all full of vitality, and they had their own dreams and objectives, and they are very confident with themselves.
One of the teachers talked to me about very private, and a little sad story, in spite that it is very short time since we met each other. In Japan, it is rare that you talk about private affairs to the people whom you just get to know each other. The reason still she talked about such things to me is, that her life has been so rich, and she has kept holding her dream and objectives tightly with herself. Therefore she could talk about her sad story to me.
Yet another teacher provided man-to-man editing on my poor English composition very eagerly. I was so impressed by her attitude and action that she did not use the ready made materials, but she considered about the material. She was probably the best teacher to me.
The fact that I could get such hospitality in Cebu was much more fruitful than staying at beach resort by many times. I wanted to talk a lot with them, but, I was so frustrated because I could not think of appropriate expressions due to my poor English skills. Next time, I would like to be able to tell what I want to convey to them.
Exciting English camp in Cebu by Tomoko
It was my first travel to Cebu and we had a great time thanks to our teachers. And also, Cebu's blue sky and sea are so impressive! We have learned much about English skills throughout the 3 days lessons. Especially, teachers' clear English pronunciation are of great help to improve English speaking skills for me.
I love beautiful nature of Cebu (I will never forget the landscape from Osmena Peak with teacher Frecy, Kristine and Hisashi!) Hope we will come back Cebu again 🙂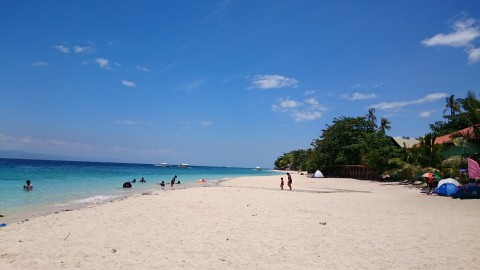 A NIGHT OF A MILLION HAPPINESS by English teacher Abby
After knowing that Koji-san and his staffs will be coming here in Cebu, I was somehow fixated about it. I was already looking forward and hoping for their enjoyment, though Koji-san's purpose of coming here is to let his staff learn English for their company's 10th anniversary.
Koji-san's first night was a welcome party for him in a Karaoke. It was just a simple party but I can feel everyone's happiness, especially Koji-san's. The time he stepped inside the Karaoke, I started to sing "I won't last a day without you." He was smiling while I was singing. I didn't know what was he thinking at that time. All I knew was, I was in great awe upon seeing him. The feeling of great respect mixed with fear and surprise enveloped my whole system. "THE BIG BOSS IS HERE," I thought. But there's one thing I was sure, Koji-san is extremely good looking.
When Koji-san saw the badge and the cake we prepared for him, he laughed a lot. It was not a mocking laugh but a laugh of extreme happiness and appreciation. I was so amused by his reaction and I was happy seeing him happy. The night was full of singing and dancing. He danced and sang with us. Koji-san's so cute when he danced. 🙂 What made me happier that night was when Koji-san said, "I never experience something like this in my life."
I only spent little time with him and I was not able to meet his staff, nevertheless I was truly happy after knowing that everyone enjoyed their short stay here in our humble City. And our City will always be willing and more than willing to welcome you with open arms the next time you visit here.
We Do Not Remember Days, We Remember Moments by English teacher Frecy
Things were not made according to plan. There were lots of twists at that momentous night. I and one of the teachers were really nervous upon fetching Koji-san in the airport. We knew that he was really expecting a lot of teachers will come in the airport. Unfortunately only two came because our purpose there was to spoil his expectations and surprised him in the big dome.
We wanted to surprise him and we thought we did it! That was a blast during the welcome party and unforgettable experiences that made us all proud. Now we knew how good singer and dancer was Koji-san. Very cool BOSS that we never expected. Whatever you requested, he really tried to execute it and nailed it for your satisfaction.
Meeting with staffs were also remarkable experienced, especially when we tend to introduce to one another. I was reticent to introduce myself to them maybe because I felt that I was with high profile people but very fortunate enough because I was really wrong Rondhuit staffs were very accommodating. We really had a great time teaching, dining and sharing some thoughts and experiences.
We want to thank Koji-san and the rest of the staffs that came together to make these things possible. Thank you for making us all felt that we were equal in the fact that we were all different. We were all the same in the fact that we will never be the same. We were united by the reality that all colors and all cultures are distinct & individual.
Not only you guys but also we, teachers had a hands-on learning experience that we will never forget. Distances never separates, If feelings are true from heart then friends are always friends forever! Till we meet next time!
A Glimpse at the RONDHUIT Team`s 10th Anniversary Held in Cebu by English teacher Jecel
Cebu, Philippines- Summer has come. Day by day, we experience the gradual increase of the surrounding temperature. Yes, even if we are a tropical country, we have a specific season of the year that we consider as `summer`. And yes, I know what you are thinking. Beach, right? You are imagining the white sandy beach under the clear blue sky. Well, not for me. You`ll be surprised that considering that I am surrounded by breathtaking beaches and grandiose beachfront hotels, it would just be the last in my to-do list to spend my precious time in any beach- and I know nothing about swimming. Why am I telling you this? It`s because every Japanese student has the same reaction when I tell them this. And oh, yes! I am an ESL teacher providing English lessons to some Japanese learners who wish to improve with their English skills for various reasons.
One of my dedicated and loyal students is Mr. Koji Sekiguchi. Later did I realize that he is a president and founder of Roundhuit company. I couldn`t remember exactly how he was in the beginning. But to tell you, he is apparently very serious person (typical Japanese, I think). But somehow I felt that he has some humor hiding within him. I love humor very much. I think it is very vital in order to maintain a healthy life. He gradually came out of his shell. He learned how to utter jokes in English. Some I consider as his way of `bullying` me. In some lessons, I got to be told about what`s currently happening in his company- whether bad news or good news. I lend my ears to him- say less words and try to forget about them afterwards. Well, that`s life!
Moving on, the company commemorated its 10th anniversary last April 2016. In an instant, Koji-San told me about his plan of treating his team for some English lessons here in Cebu. Of course, it had to be private since it was the best way for us teachers in order not to complicate things more. It was also planned for them to have each of them to present on the third day (Wednesday). It was a weeklong stay for them here, except for one of them. Though we couldn`t welcome them altogether, we actually had a blast for Koji-San`s welcome party. I realized that Koji San is actually an outgoing person. He danced and sang with us! Perhaps, that is what he really needs sometimes- a great way to unwind that could involve some exercise.
Unfortunately, things didn`t go well as we planned. First off, we went to the top of the mountain the first night with Mr. Issei Nishigata and the other teacher, Paula. His (Koji-san) main purpose was to see millions of stars above the sky- but we ended up seeing just three! Well, at least we got to see the serene view of the whole city with its lights as each of us were drinking a bottle of beer. Things got worse when he got hospitalized- for some indigestion I guess. That made our schedule to go somewhere around Cebu with teacher Lovely on that day canceled. Lesson learned: "Never eat shell food for dinner."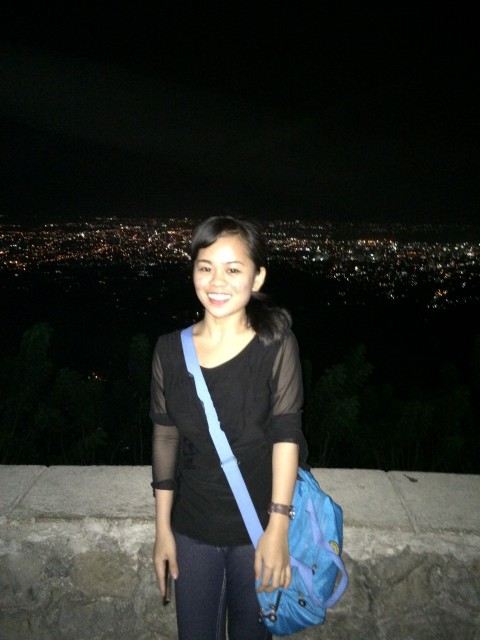 The presentation was rescheduled on a Friday. Issei-San joined through skype. He had to go back to in the morning of Wednesday. Oh, I remember something. Issei-San, if you are reading this, I would like to remind you not to spill the beans, please! BTW, I can feel that you are not doing your assignment. But please do it if you can remember every morning. I am sorry you couldn`t join with us in the final dinner. I know that you really wanted to stay here for quite a while despite your culture shock, but it`s OK. You are still young enough to have some opportunities to come back here someday and have some great conversations with us-with your British accent. Mr. Yoshikura Takeyoshi, I am sorry to hear that you were not able to go out with them in the next day due to your hungover. Blame the beer! But I wanna say oh, hail beer! Mr. Hisasahi Nakayama, thank you for joining with us and recommending me about the Japanese beer. Am gonna get one in my birthday. I know you still have some culture shock, but it`s up to you on how to deal with it. Guys, see the beaches around here someday! And the smiling people, LIKE ME!
And finally, Koji-san. I you had a huge question to me about Cebu. I still remember the exact words you said: "I am surprised that English teachers described Cebu with many buildings and etc., but while I was on my way here, I saw many small houses along the streets. Are there any people living inside those houses?" That question as much as that realization of yours hit me. Furthermore, you are also concerned as to why is it that despite being composed of young population, and we almost have a good economy, still you find some skilled teachers you met in your online lessons, teachers who have a hard time finding a job? Moreover, we find many several homeless people and street children around here. Well, I already told you my answer to that. That`s life, perhaps! Yet, such situations are driven by several factors. Corruption- which leads to poor education, discipline, brain drain and personal issues. Those are some issues. As I said, some analysts said that as the economy is progressing, the gap between the rich and the poor has become longer. Kinda paradoxical thing.

Well, so much for that now. I wanna say that there is always time for us to have some more beer, right? Whether it`s gonna be here in Cebu or in Tokyo, please keep yourself well and healthy so we can have some more bottles of beer to empty down someday! Remember that health and memories are the most important wealth we have to cherish! I always pray for the prosper and stability for Rondhuit and the health of its team. More power and see you again someday guys!

P.S. I would like to extend my heartfelt gratitude to my team as well especially teacher Frecy, Lovely, Kristine, Abby and Paula for your wonderful time and cooperation. A million thanks to you! (Smile emoticon)
Little moments Big memories by Kristine
More than a month ago, Team Rondhuit first came to Cebu. I really thank them for providing me with a wonderful experience. I hope that a team of professionals can create another whale by hard work and confidence in success.
What was the teaching like Ms. Jecel put me in charge of handling the lesson for Tomoko. Initially, my first thought was I'd be observing her presentation because that was the plan but it turned into a very impromptu lesson. Therefore, all I did was to share to her my knowledge in preparing a brief presentation, giving her a free conversation and touring her around Waterfront hotel. However, I was not there during their presentation but I heard she gave a clear and concise presentation on a subject. Moreover, I thank her for her kindness and for sharing me a piece of her life. I believe that her strength and enthusiasm will benefit her career.
How was the trip Maybe more than once you have caught yourselves thinking "Why am I here at the hotel instead of spending an afternoon on a white sandy beach? Well, no worries, there's time for fun and there's a world out there to experience.
So, we decided to make a quick whole day trip to the southern town of Cebu. We were excited. We had to travel far to reach our destinations. There was not a dull moment to me in that whole trip, everything was memorable.
In conclusion As I look back on that experience now, I can say with certainty that it was truly a good memory. I became certain that this goodbye would not be permanent. I am looking forward to meeting you all again.
A priceless moment to cherish by English teacher Lina
The night of Koji-san's arrival was unexpectedly unexpected. The feeling of excitement was accompanied by a sudden stomach trouble, and that terrible feeling made me uneasy and confused whether to go to surprise him or not. Of course, I was very excited to see him personally. As for me, it is a wonderful opportunity to have as it just rarely happens, that is, meeting with a student. Who would know that a teacher like me doesn't only give lessons and talks to students online but also having the chances of meeting them personally? Because of the bad feeling I had, I decided not to go. I was then sad because I couldn't do my best of being with other teachers to surprise Koji-san. Few hours later, I called one of the teachers to ask about what was already happening in the venue until I finally made up my mind to go. I was in a rush thinking of how very late I was to the agreed time of meeting. While I was on my way, I thought of many things such as how Koji-san would react to my lateness or would he look the same in the eroom and in personal?
Upon arriving, instead of he must to be surprised, the situation turned oppositely. I was surprised to see him. The boss whom I was sometimes afraid of giving lessons because of his looks in the class didn't seem to appear like a real boss. In fact, he is definitely a boss in business aspect but his humble and gentleness disseminated the whole room that night. The most precious moment I witnessed about him was his admirable talent-a talent which I never expected him to do. Because we already enjoyed ourselves in singing, we asked Koji-san to sing us an English song. Aside from that, we convinced him to join us dancing since the party was getting more and more fun. I knew well at that time that he could showcase his hidden talent as well. He tried his best to move his body and followed several steps we taught. I was in thorough amazement to see him dancing. The room was filled with too much laughter, wonders, more smiles and happiness especially to the boss. The night was ended with a touching words from him, "This is my first time to experience like this for my whole life." For me, I was overwhelmed because I was part of it.
I had only got a very limited time to talk to Koji-san. My second time of meeting him was the night before he flew back to his country. I was very happy to know that he and his staff enjoyed their stay in Cebu such as talking with other teachers, eating tasty food, etc. Just the two things I was sad to discover; he was brought to hospital and his coming back to Japan. Meeting with his staff was an additional moment to remember as well. They were inviting and humble.
I would like to extend my heartfelt thanks to Koji-san for making me part of their journey in Cebu to celebrate their anniversary. I was grateful for your kindness and for being considerate that I was always late to arrive in the short gathering.
Cebu is always open and ready to welcome you whenever you wanted to come. I wish that you would be able to do things you missed to do during your first visit, riding in a jeepney for example.
Cheers for more journeys to come, for fruitful years to arrive and for more company's anniversary to happen!!!
Till we see each other again!!!! Ganbatte….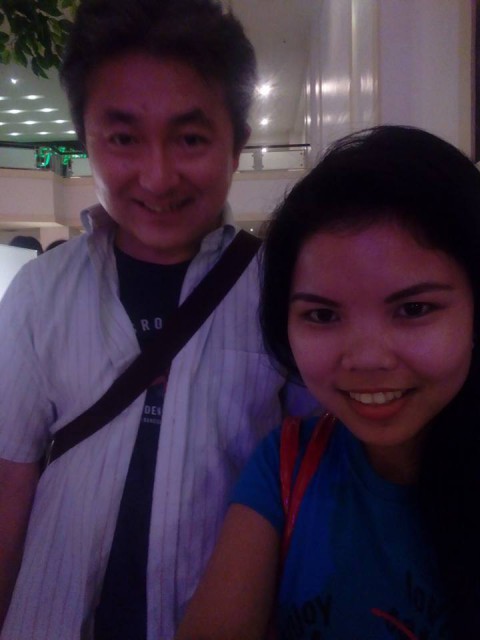 Learning in a Different Way by English teacher Lovely
The month of April was the busiest month for me this year. One of my students, Koji Sekiguchi, came here in Cebu, Philippines for about 1 week. I arranged my schedule at work in preparation for their coming. Along with him were his staffs too. We planned on meeting up with Mr.Koji at the airport when he arrives. Unfortunately, my grandfather died a few days before his arrival and his schedule for burial was set on the same date of Mr. Koji's arrival. I still thought of going to the airport yet my body's not participating. Missing the chance to meet and greet him the first time was a failure. However, I overheard that he had a good time with the other teachers on his first day and so, I was happy to know about it.
The following day was my scheduled date to have a lesson with one of Mr. Koji's staffs but there was an unexpected change of plans. We had a group activity and it turned out fun. Actually, when I arrived at the meeting place I was in awe to meet Mr. Koji and his staffs. This was my first time to meet such business-minded people looking so good and decent. At the back of my mind, I was giggling to know that they really wore summer outfits since I advised Mr. Koji to do so. It was already summer in Cebu and I told him how hot and humid the place is especially if you go out and do some activities outdoors. Honestly, I couldn't take my eyes off of Mr. Koji and his staffs everytime I'd talk to anyone of them. I even studied how they look, behave and speak. This was my second time to meet Japanese students. It was another unforgettable and great experience for me since I met new people from a different country.
On that same day, something bad happened. It was alarming to know that Mr. Koji had to be admitted to a hospital. We were all so worried then. We felt bad and, frankly, scared as to what happened to him. Everyone was at the hospital surrounding Mr. Koji and did the best we could to be of help. Thankfully, the doctor said he'd be okay. He had to stay at the hospital for at least one day and then, was released the next day. The rest was history. I mean, the rest of the days were full of laughters, realizations, adventure, good food, learnings and joy. Specifically, their English skills were quite good. Watching each of their presentation was an achievement for everyone of us. We were all learning in a different way from the group activity where they had to speak impromptu, to the teachers helping them make their individual presentations and to us, teachers, learning what and how to do when an unexpected event occurs. Till we meet again!
A Privilege and A Once-In-A-Lifetime-Opportunity I Could Never Miss by English teacher Paula
As an Online English Teacher, I never thought that there's a chance for me to meet my students personally. Since, I'm working in an online English school, I assume that I can teach Japanese students only through Skype and a provided online classroom. I believe in that assumption until one day, one of my regular students told me that he wanted to celebrate their 10th Anniversary of their company here in Cebu, Philippines. He wished to make the trip memorable and productive not only for him but for his staff too. So, he decided to have a business-learning-leisure trip. It was called so, because this trip had three objectives. First, was to work in the morning. Second, to study English in the afternoon and lastly, to enjoy time freedom for one day (each staff had different day for their leisure time). I was so impressed by how this student carefully planned this trip– from the travel dates down to the schedule of classes.
On the day of his arrival, I could not meet him because it was a bit late already and I just expected to see him the next day.
Our first day of meeting was horrible because I and another teacher arrived late in the meeting place and so, he waited for about 40 mins. That was embarrassing! (Again, I apologize for that). The reason of our tardiness was that we mistakenly went to a different meeting place and so we took time changing rides and places. After the delay, I finally met him. I was able to recognized him easily since I get to see him almost everyday in our online lessons. He was very pleasant and nice. On that same day, I also met one of his staff. We started the lesson right away as soon as we reached the room. We had self-introduction and group discussion afterwards. Next, was the one-on-one lesson. I got to know more about their company when the CEO shared its history, function and his experience. After listening to him, I asked him what was the goal of their English lesson and he said that he wanted to have an individual presentation by each one of his staff, including him, towards the end of the week. So, to be able to achieve that goal, I suggested some tips and ways on how to do the presentation. We had a smooth discussion and in between that, I asked him to read some short stories with moral lessons snd let him share his experience and thoughts related to the stories.
On the second day, my student was one of his staff. I actually prepared some materials for us to be discussed but unfortunately, we could not make use of them since we needed to draft his presentation. So, we moved forward to make his supposed piece.
On the third day, I had the chance to meet the rest of his staff. The three of them came together here in Cebu. We had self-introduction with one another. It was fun– as they say, the more, the merrier. After the group discussion, each teacher met her student and had a one-on-one lesson. But during the lesson, unexpected thing happened. The CEO felt a terrible abdominal pain that he wanted to be taken to the hospital. So we immediately called for a help and the ambulance took him to the nearest hospital. We were all worried about him. Of course, he was here in Cebu, so as his teachers, we also felt the sense of responsibility of him. We looked after him in the hospital and made sure that he would be fine and feel better soon. He was admitted there for one night.
On the fourth day, though he was still at the hospital during that time, we, the teachers and students went back to the business. We continued on finalizing their presentation.
On the last day of English lesson, we had some brush up and practice for the presentation. The CEO, who was already very fine, and each staff was able to deliver their piece confident enough to be understood and appreciated by the audience. Great job!
We ended the night by a group dinner that lasted for almost three hours. Everybody enjoyed the food served in buffet corners. Well except for me, because I had accidentally eaten the wasabe with white rice. (I know, that's terrible) . However, I was happy that at least I tried it and it made me realize never to try it again. ✌️ We enjoyed chit-chatting, drinking beer and eating. It seemed like we have already known one another for a very long time though in fact, they only stayed here in Cebu for a week. It was indeed a memorable time.
I would like to extend my gratitude first of course, to the CEO who made everything possible. And to each staff that I got to know day by day, thank you for being so cooperative and patient. I really admire your effort and perseverance.
More power to your English skills, business and career!
Cheers for a wonderful experience!
トレーニングコース
ロンウイットのトレーニングは、Lucene/Solrの経験豊富なコミッターの
監修のもと開発されたハンズオン(実習)形式のコースです。
セミナー
ロンウイットのApache Software Foundationコミッターが、情報検索の基礎、自然言語処理、そして、ユーザにとっての効果についてご説明させていただきます。