English Training in Cebu
著者:西潟 一生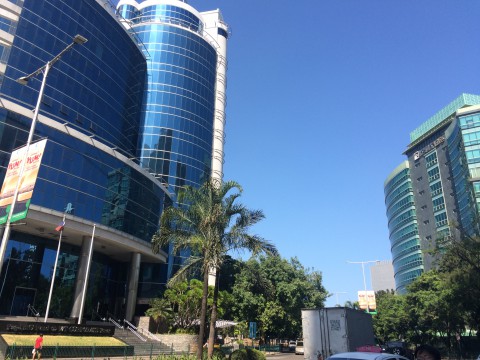 English Training in Cebu by Issei
Each year for 1 week our company goes to Cebu island for language training. This is the second time I will be going. Last time all employees went to Cebu and it was the best experience we have ever had. But going to Cebu island isn't just for studying language. We receive various kinds of stimulation from being in an environment different to Japan that we would never be able to get from english conversation classes in Japan. Such stimulation must be an essential element for our company's future success in overseas.
Last time all employees went to Cebu island, but this time I went alone. On 1 of the 2 times a year, only 1 person goes. This time the schedule allowed for no leisure time. There was work in the morning, and english lessons in the afternoon.I arrived in Cebu 3 hours later than what was planned. As soon as I arrived I bought a SIM card. You can buy the really cheap there. For 5 days I got a valid SIM for 300 PHP. The connection speed was extremely slow, but it was enough. Cebu's Internet environment is not so good compared to Japan, especially at night, the communication speed drops. It was not usable at all.
This may be just a problem of the SIM I contracted or the hotel WIFI, but this neighborhood is not as good as the Japanese environment. Although the airplane was delayed three hours, there was a shuttle bus to the hotel, I was able to reach the hotel safely. The outside was very hot and humid, at that time it was 28 degrees Celsius. It is quite different from the climate of cold and dry Japan.
It was not a beach resort hotel that we headed from the airport. During the morning we conduct daily duties in the hotel, and in the afternoon have english lessons, so it isn't necessary to have it at a beach resort. Therefore, we reserved a hotel in the city center of Cebu. I thought so last time we came, but you can't really call the environment on Cebu a good one. The streets arent very clean and there is dust and garbage floating around everywhere, it would be bad for someone of a weak physical constitution. The roads are filled with lots of cars, so it's always congested and there is a lot of exhaust gas. You feel like the air is dirtier than Tokyo's
I'm sure the beach resort area isn't like this, but a beach resort is only one part of Cebu. You could say the place I went to was the real Cebu. When I got to the hotel, the english teacher was waiting for me. He waited for me even though I was 3 hours late. I think he's a really good person. However, even though I was so exhausted, he kept loading me up with issues until the next day, so I ended up thinking he wasn't that great after all.
English lesson started immediately from the afternoon of the next day. After an easy introduction of yourself, the lesson started based on the teaching materials brought by the English teacher. Beginning with pronunciation exercises, I had various lessons. The lesson of the day ended in a blink of an eye, and after that I worked with my job which was not cleared up in the morning. On the second day of the lesson, I gave a presentation on the cryptocurrency to the teacher and guests my teacher called. It was a presentation with a firm review from the teacher. I think that my knowledge on the cryptocurrency has increased.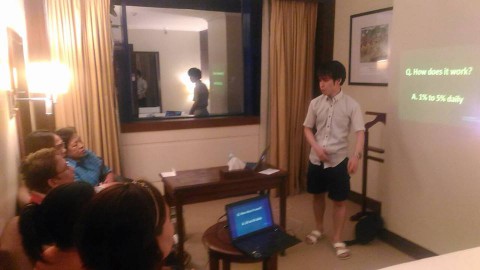 On the 3rd day of the lesson, I went to the university where my teacher had used to work and made a presentation on cryptocurrency in front of the students like the day before. I was surprised that the students in Cebu were really pure-hearted. I think it was a very good experience to make a presentation in front of the students and speak with them. At night, I had a dinner with my English teacher. I ate a traditional Cebu cuisine, which you can not try in Japan. Some dishes tasted sweet and others spicy. All of them tasted exotic and I missed Japanese food a bit.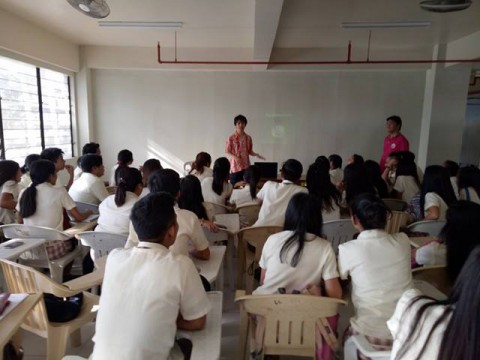 It was three days in the blink of an eye. I think that there are many companies that have established English training in Japan, but I think that there are very few companies going abroad and doing English training. I think that I had a very good experience. My company gives staff opportunities to make a speech in conference overseas. This camp will be useful when I have an opportunity like that.
トレーニングコース
ロンウイットのトレーニングは、Lucene/Solrの経験豊富なコミッターの
監修のもと開発されたハンズオン(実習)形式のコースです。
セミナー
ロンウイットのApache Software Foundationコミッターが、情報検索の基礎、自然言語処理、そして、ユーザにとっての効果についてご説明させていただきます。